Starting system - starter solenoid - 1973
Several issue have been causing car 689 to be unreliable and in 2012 and 2013 some steps have been taken to resolve them.
For a couple of years, the car would sometimes just be DEAD - the starter would not crank at all, even though the lights lit up. I thought it might be the neutral safety switch, but a gas station concluded that it was the starter and replaced it with a heavy duty one. Some time later, although very few miles later, it happened again when the transmission was being rebuilt. When the car cooled down it often started fine. THIS TIME they concluded again that it was a bad starter, but to get the "lifetime warranty" would have involved days - so I got another one. That second time I was told that the starter was so hot that it could not be touched.
That heat may have meant that the spring which disengages the starting motor did not pop back or something. Or, just a bad second starter.
After that the car worked fine - for a while. I had recently replaced the coil, which seemed to smooth out the car engine, then again, no start
the lights lit, but no cranking. This time I jiggled some wires and tapped the solenoid, and the car started.
The next day, it cranked and cranked, but no hint of firing. Twice, just as I stopped cranking (let off the key) , there would be a small sound of one cylinder sparking.
This led me to think that maybe the feature in a solenoid that makes it send higher voltage to the coil when starting up was not working.
That, combined with occasional fails to crank at all, made the solenoid a suspect. NAPA ST81 by Echlin looked like my old one and had a 36 month warranty.
This one was $25.49 plus tax, but they had a 12 month guarantee one for about $16. The "premium" one I got says "made in China" The clerk at NAPA asked if it was a car or truck and I guessed CAR, since who knows where the part came from in the Ford stable. He also wanted to be sure that there were 4 terminals, not 3. Turns out that a search of NAPA's website shows the same part for car or truck. I think these are kind of generic for the era and likely cover several years.
I removed the battery to get access and took the old one off, cleaned the terminals and put the new one in its place. The 2 solenoid mounting bolts come from inside the passenger firewall, and a pair of vice grips or an assistant will help keep the bolts from spinning as you undo the nuts under the hood.
I found out why you re-connect the POSITIVE post of the battery first. I connected the negative, then. when tightening the positive bolt, the wrench tapped that diagonal radiator brace which was grounded - big spark. By doing the positive first, then if you touch ground, no problem since the electricity can't yet get to the negative end of the battery.
After replacing the solenoid, I noticed that the small connector (left front one below on the right picture) was loose and flopped around. Something had come undone inside causing it to wiggle, and likely not work right. With the new solenoid, the car started fine, except that it was likely flooded from my prior attempts, and the battery was partly discharged, so it took it a while to idle normally. The coming days will tell more.
NOTE - Several internet sources suggest that whenever you replace the starter motor, you automatically replace the solenoid. I had not been advised to, nor did I when the two starters had been replaced on the carl.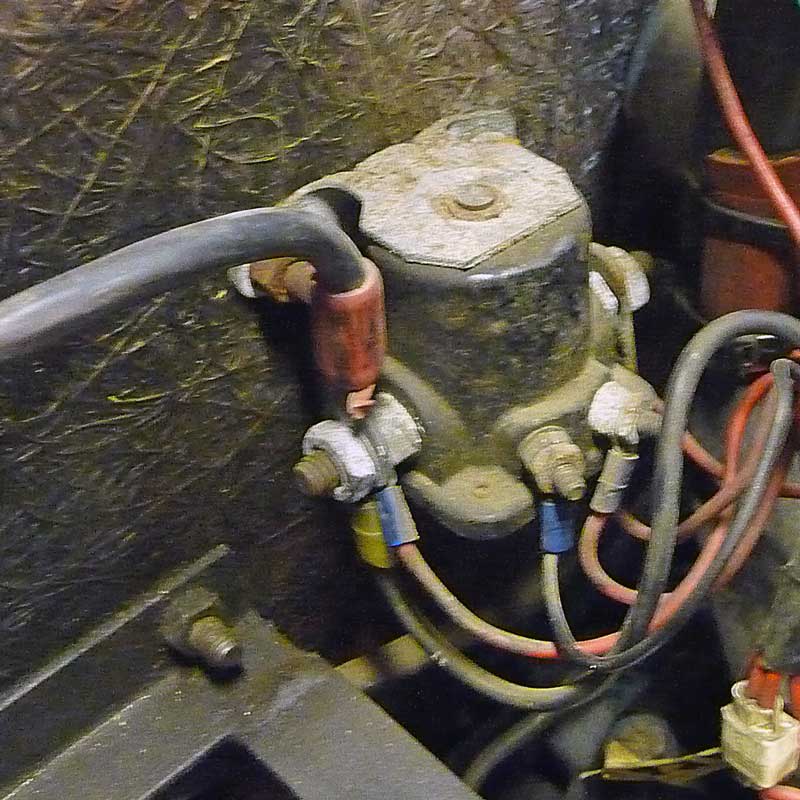 Spark plug firing order Ford 302 -
While it is not usual for me to post stuff that is easily found elsewhere on the internet
the chart below is handy and applies to all year Glassic 302 engines as well as
a bunch of other Ford engines. the term on the chart 302 EXC HO means except high output engines.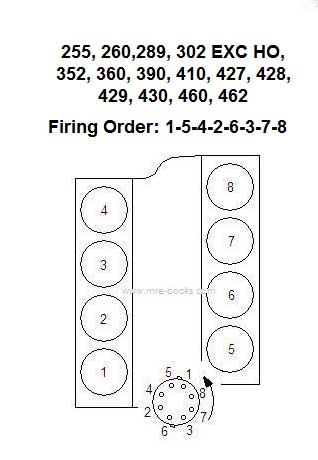 ***********************************************************
Fuel line clogs up -
In December, 2009, Elmer Mack shared the following:
....when I received my car last week from the seller, I had a hard time starting it, and then keep it running after @ 1-2 minutes.........We used starting fluid and that partially helped, but the engine died after 1-2 minutes of perfect running...
.......The problem was a small rubber hose/gasoline line coming out of the fuel tank was old/weak/rotten and it was collapsing when the fuel pump sucked the gas out of it. Once this rubber gas hose was replaced the car ran like a top...........You may want to post this info..
This should serve as a reminder -- ANY rubber parts are subject to deterioration over time and, if they have not already been replaced on your car, they should be -- rubber brake lines, fuel line, hoses, belts -- and TIRES! While these items may look ok on the outside, if they are old, they go bad on the inside.
sludge in gas tank
In August, 2010, I got this info from Ross, car 329
Do you know of anyone that has had problems with their fiberglass gas tanks? Here's what has happened to my Roadster: It began starting hard and skipping badly and I thought it was an electrical problem. All electrical components were replaced and still the problem was not resolved. The repair shop said it needed a valve job and new push rods. The valves were sticking because the gas tank was deteriorated inside and sending some kind of gunk with the fuel into the engine. You could actually scrape gunk off the bottom of the tank. It's being repaired now and I was wondering if this has been a problem for anyone else.
ANNEXMASTER REPLY:
As for the gas sludge problem, I have not heard of it with Glassics any more than the general issue of gas getting all cruddy over the years that many collector cars sit around. Some Glassic owners have reported the problem, not so much about the gas tanks but the old gas. Several have had their gas tank "cleaned" and coated with some stuff -- just an item that they mention when describing their cars.
I had not heard of the gunk requiring engine work (there are magic chemical products at the car stores to clean sludge from engine parts) but have heard of it clogging up the gas lines and so forth.
Replacement reproduction gas tanks should be available for most years of Glassics if you want to go that route, or, I think, radiator shops will clean and "coat them".
So, in summary, I have not heard of any issues tied to fiberglass or plastic tanks, but have heard of rust and sludge both in Glassics ,and other cars that are old and have sat around a lot.
Please let me know how you end up solving the problem so I can post your solution.
And Ross' solution:
I ended up having a valve job and a new gas tank installed. The valves were way beyond just using a gas additive. The mechanic showed me the problem and how hard it was to free up the old valves. Also, the gas tank was so badly coated with gunk on the bottom you could scrape it off with a screwdriver, much of which was ending up in the engine, causing the problem. All is fine now and my "Toy" runs like a top.
PS -- you can Google ANY questions - there are articles and videos
about cleaning your own gas tank! No smoking please!
1967 ignition parts fit a 1971
Ponce, car #432 reported in May, 2008:
.....I went to two parts places (one is NAPA) for cap, points, rotor and condenser. The points and cap match up to a '67 engine. I had them look at '71 and they weren't even close.
Here are parts that worked in car 432: For reference, the numbers on his engine are:
The numbers on the top of the manifold right front are: 317054-C2
and on the block are: IH3 317267-C3
Distributor Cap FA86,

Rotor FA85,

Point Set CS757SB,

Condenser FA66SB,

Wire Set BEL 700121,

Oil Pressure Switch MPE OP6097SB,

Fuel Pump NFP M60048,

Flex Rad Hose NBH FM63.
This is reported in the spirit of sharing clues. It is unclear how 1967 parts would be in a 1971, but here is his experience in case it is helpful. The Annexmaster saw an early Glassic with a TOYOTA drive train, installed by a junk yard owner - so anything is possible in a Glassic after all these years.
Spark plugs for my 1973 (car 689)
SUGGESTION: TAKE AN OLD PLUG WITH YOU TO THE STORE.
Seemed like an easy project in 2012. So I went to O'Reilley Auto Parts in Southern California and specified a 1973 Ford 302.
After clicking on the computer, the guy asked me which Ford? Since I figure they are all the same, I said "Maverick".
What he gave me was not right for my car. While they replaced them, it is still unclear how I came to get the wrong plugs, but it does happen. The computer still said that (WRONG PLUGS) Motorcraft SP502 ASF42P was right. As it turned out these plugs were the right look, and length of neck, but much smaller in diameter thread than what I have in the car.
When I removed the car's plugs they were Autolite 45. From eBay ads, I think that my Autolites are 18 mm threads, where the Motorcraft are
14 mm. Since the Motorcraft were platinum tips and a bit more expensive, the Autolite were copper - or cheaper plugs.
I am no mechanic, but I kind of think that these two plugs are not REALLY interchangeable. Of course, I now question WHAT engine is in my car, and believe that when I tried once before to read the stamping on the engine, it was hidden under the starter motor, but I will try again to find it.
My mechanic suggested that perhaps the heads had been changed sometime over the years or did not match the engine for some reason - I THINK he said that the smaller plugs probably would have been correct for that year.
A further check on the internet suggests that Ford does not want you to know the serial number. It appears that the starter motor has to be removed to find it. I will pass on that since my THIRD starter seems to be doing fine for now. Apparently, a new or rebuilt starter can OFTEN fail right away.
****************************************
A mechanic's advice for car 678, a 1973
Tune-up items and suggestions
April 2012 Repairs, suggestions by Bill.
Bill, who had worked on the car previously at a dealer came to the house to look at the running condition of the car. Bill is a long-time mechanic, specializing in 1960's Mustangs.
He checked the choke position, (by removing the air cleaner and confirming that the choke valve was mostly closed – and later opened up as the car warmed up) He noticed some gas on the butterflies down inside the carb. There should not have been any there when cold.
He looked at the spark plugs that I had removed. They all looked healthy.
Emission part removed: Dash Pot
He checked the operation of the car when cold, and did some adjustment of the carb. The throttle solenoid – "dash pot"?? seemed not to be working right and was out of adjustment. (item # 3 in the photo above) He said that it served no purpose OTHER than emission control and it could be removed. It served to slow the accelerator feed down gradually when taking foot off the gas – burning the gas more efficiently as the engine slowed down.
He removed it and taped off the wire that fed electric to it. (see the arrow at item # 3 the photo above)
While I was at it, I asked about the hose line at the front of the carb, that had no hose connected to it. He said it was to vent off gas fumes from the carb, and would have been vented to the charcoal filter canister - part of the emissions stuff - I don't think that vent exists on older carbs. Leave it to vent to the atmosphere. (item # 1 in the photo above)
Timing Advanced
He checked the timing with a meter, and it looked OK, After a test drive in which we agreed that the car ran alright but not inspiring, he ended up fine tuning by ear with the goal of advancing the timing some. After that the car was a LOT more responsive and "snapped" when floored. It felt about 50% more powerful than before.
The car would skip and miss every few seconds at idle and in drive, and Bill suspected arcing or shorting in a spark plug wire.
He got a shock from a spark plug wire, something that should not happen, and suggested new wires. He said at least 8 mm or even bigger wires would be good, and recommended MSD wires – straight ends on them – the cut it yourself type would be neater looking than a stock set. He said that a good way to test for shorts in the spark plug wires was to inspect the car in the dark.
I did that and saw light at most, if not all spark plug boots, as well as at spots along a few of the wires every now and then. Internet sites suggest a dielectric grease, which the web says:
"Dielectric grease is most widely used as a sealant for spark plugs, and is applied to the rubber boot of the plug wire. The grease not only helps the boot slide onto the ceramic portion of the plug, but prevents dirt, moisture, sand, and other foreign objects from contaminating the seal, and compromising the electrical current."
Fuel Filter Checked
He also removed and checked the fuel filter. (item # 2 in the photo above) He was thinking that the carb was adequate, but may have some clogging issues causing un-smooth running at a certain rpm range. He un-wrenched the filter after removing the hose clamp, and placing a rag underneath to catch dripping (or squirting in my case) gas. He tapped the piece to see if any gunk came out. Very little did, but it looked easy to just replace.
He suggested either SEA FOAM, a gas additive that had worked. Otherwise, he was not that hot on changing to a 4 barrel (unless racing) and suggested a new Holley two barrel as an alternative. He also suggested a Petronix electronic pointless ignition setup along with their own coil. He said that they were more reliable and better technology, and fit inside the old distributor cap. He said they were easy to install.
Bill also commented that my readings of the cylinder pressure were likely off, and that the engine sounded good overall. When I changed my plugs, I tried to test the compression with an old compression tester that I had found at a yard sale. One cylinder read 50 pounds, where the rest were all over 100 pounds or so. I do not know if the gauge was accurate.
The occasional sputter when stopped could be arcing of the spark plug wires, the roughness (not seen during the road test) at mid range could be carb being short-changed on gas from gunk or corroded jets.
Brake fluid was leaking – and should be replaced since I mentioned rust around the lip of the master cylinder.
Adjusted carb
Removed solenoid (dash pot?)
Adjusted timing (advanced it)
Checked the old plugs.
Test drove twice
PRODUCTS SUGGESTED -
Petronix igniter breakerless ignition (igniter II not needed) – with their recommended coil Not too expensive, improves performance, easy to install inside the old distributor cap
Holley 2 barrel should provide plenty of fuel. New recommended over rebuilt. 4 barrel carbs, even as low as 600 cubic feet per min. can provide too much gas.
Sea Foam has had good results in cleaning gook out of carb, valves, etc. Not cheap, but is added to gasoline. It won't repair worn parts or corrosion, however.
FROM the internet: Dielectric grease lubricant for spark plug terminals. Loctite makes one as do others. Followup: I put this stuff ($3.00 at Walmart) on the spark plug ends and re-inspected the plugs at night. There was still plenty of light at the plug boots, so it did NOT fix that problem. I ordered 8.5 mm plug wires on ebay ($45 + $10 for shipping) and will report back on what effect THEY have.