Special Library Visit
The Tarpon Springs, Florida, library has a very different book group called "Adults Who Read Children's Books." The group is made up of former teachers and librarians as well as current librarians and others who are interested in books for children and teens. They meet once a month to talk about the different middle grade and young adult books they have read in the previous month. This is especially helpful to the children's librarian because it lets her know if there are any special books she should order for her readers.
I was invited to speak to the group and they all read Evangeline Brown and the Cadillac Motel before the meeting. We had a great time discussing Evangeline and Farrell and writing in general!
Review from Stories for Children Magazine
"Stories for Children Magazine" is a free, monthly e-zine for kids 3-12. Each issue has fun stories and articles, as well as puzzles, games, children's book reviews, crafts, and poems. It also has a great program for the children's books they review. Once they are finished with a book, it is donated to a children's library so that others can read it.
The magazine gave Evangeline Brown a nice review.
My New Book-in-Progress Receives Letter of Merit
I am a member of SCBWI (that's the Society of Children's Book Writers and Illustrators). I recently submitted the manuscript of the next book I am working on to be considered for the General Work-in-Progress Grant. Right now the book has the working title, Hippie Haven, although that can change (which is why it is called a working title!). It is the story of a girl in 1969 who is afraid for her brother when he is sent to Vietnam, while she must stay in the small Colorado town of Haven with her mother and other hippies and flower children who are against the war.
While I didn't get the grant, the manuscript was one of 21 (out of over 400!) to get a Letter of Merit from SCBWI. I feel very honored to have my novel recognized like that, and am hard at work finishing it.
New Reviews Added
Some new reviews of Evangeline Brown and the Cadillac Motel have been added to my reviews section. Click here to read what others have to say. (I'm happy to report they all are good!)
Author Open House -- A Novel Idea!
A while ago several published authors, a composer, and I formed a group called the Spindrift Writers to work together to let people know about our books and music. We had a drop-in Author Open House at the Cultural Center in Tarpon Springs, Florida, and called it A Novel Idea! Refreshments were available, our books were for sale (I brought other books that have my stories inside them, along with Evangeline Brown), and we spent the afternoon reading from our novels and giving short talks. We had a nice crowd that came and went (that's what an open house is -- people can just drop in and stay as long as they want), and some people stayed the whole time. It was a fun afternoon!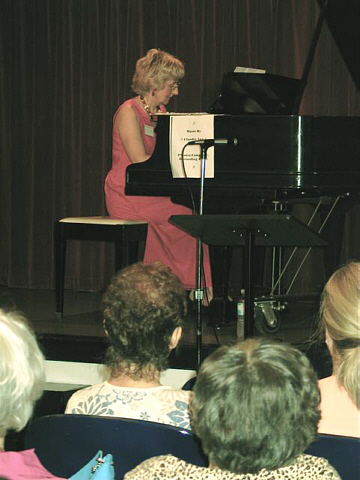 A different kind of book
I was honored when I was asked to write the foreword introducing a new book, The Artifact: An Anthology. It was written by nine different authors who met on a fan fiction web site. They came from all walks of life, live all over the country, and have never met. Each wrote one chapter of the novel, being careful not to change the book's basic idea and not to contradict each other's chapters. The result is an interesting story about an alien artifact and how it has affected various lives throughout history as it goes from one person to another. You can read more about this book including purchase information here.
School visit surprises!
When I visited two classes at Bay Crest Elementary School in Tampa, Florida, I was in for some nice surprises!
Mrs. Moore, one of the teachers, had already read them Evangeline Brown and she said the students really loved the story. Plus they had already written me some very nice letters that Mrs. Moore gave me.
When I arrived, they were full of questions about the story and about writing in general. It was easy to see that they had put a lot of thought into what they wanted to know.
Then when our discussion was over, they showed me the Cadillac Motels some of them had made for extra credit. I was amazed at how much work they had put into them -- even down to the room numbers on the doors and the white chairs in front! One boy made three rooms inside the motel, and had the white tablecloth and the vase with the rose in it from the teacher's visit, the office with the counter, and Angelique's room complete with an angel and stars!
I wanted to share their motels with you, so here are pictures I took of them. Thank you, Mrs. Moore for inviting me, and thank you students for letting me spend a wonderful morning with you! It was such a fun visit!
Models of the Cadillac Motel made by Bay Crest Elementary School students
Other school visits
As part of the Vero Beach Book Festival in Vero Beach, Florida, I visited Gifford Middle School and Rosewood Magnet Elementary School.
At Gifford Middle School, I talked to students in the 6th and 7th grades, with a few from the 8th grade. They came to the library in three sessions of 50-75 students. I talked about living in India when I was their age, as well as a little bit about getting a book published. Their media specialist, Mrs. Jones, arranged it all.
Then at Rosewood Magnet Elementary School, Media Specialist Mrs. See brought in 4th and 5th grade classes. Some of the students had published a book of their own stories as a class project, so they were full of questions about the publishing process for my book. Both sessions were such fun!
And don't forget that Evangeline Brown and the Cadillac Motel is an AR book and on the Accelerated Reader Book List! Reading it might just get you some points.
A few other appearances
I attended the The Villages Literary Festival at the Lake Miona Regional Recreation Center in The Villages. The Villages is a huge retirement community in central Florida that has over 60,000 residents. The title of my presentation was "You Can Do It Too! Becoming an Author at Any Age." My sister came along and we autographed copies of the three different Chicken Soup for the Soul books that have my stories (one story was about her) as well as Evangeline Brown.
I also went to the Vero Beach Book Festival on the east coast of Florida. The authors and illustrators of children's books made school visits so that every school had someone visit as part of the festival. On Friday morning I visited Gifford Middle School, and in the afternoon I met the students of Rosewood Magnet Elementary School. In the evening, all of the authors of both adult and children's books were invited to an Authors Reception. On Saturday, the festival moved outside where there were seminars, panel discussions by authors, and a Festival Marketplace where people could find refreshments and other goodies. I had a table on the Kid's Street and Pavilions.
I also talked to a small group of teachers in Seminole, Florida, and discovered that one of them has also written a book for children. Hers has a Christmas theme.
Then on the day after Thanksgiving, I joined three other Florida authors at a book signing in The Book Shop in Venice, Florida. Venice has a quaint town center, and by the time the signing was finished, it was dark and the street in front of the book store was filled with lighted trees and lamp posts, ready for the holidays. It was beautiful!
Evangeline Brown
featured on Supernanny.com
You've heard of the television show "Supernanny," where kids and adults are helped to learn the basics of living together as a family. Well, the show also has a web site, www.supernanny.com, that offers advice, reward charts, and just about everything else related to family living. (Hint for kids: Need help with a homework subject? Check out their best homework web sites.)
I'm proud to say that Evangeline Brown and the Cadillac Motel is featured on the web site as a "Favorite Books for Summer." Here are all of the recommended books for ages 0-9. I'm honored that Evangeline was chosen as one of their "Top Summer Books"!
The U.S.A. in Fiction for K-8th Grade
If you like to read stories that take place in the state where you live (or any other state!), you can find them at "The U.S.A. in Fiction." It lists books by state with a sentence telling what the book is about.
Evangeline Brown and the Cadillac Motel is listed under Florida, along with such interesting books as Because of Winn Dixie and Anna Casey's Place in the World.
Student shows her school project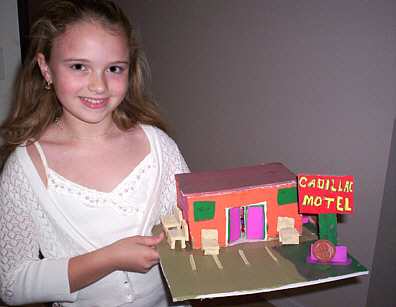 When Jordan of Lake Mary, Florida, needed to write a book report, she chose to read Evangeline Brown and the Cadillac Motel. She emailed to tell me about her project, and sent me this picture of herself with the Cadillac Motel she created. She has everything in it, including the white chairs Eddie and Angelique painted, the pink Cadillac butt (you can't see it in this picture but it is around the corner to the right), Farrell's basketball leaning against the sign, and in the back, Room 12. Thank you for sending me the picture, Jordan!
Newspaper interview
In December 2006 I was interviewed by Cheryl Bentley of the Suncoast News. She was interested in my early life in India, and also about Evangeline Brown and the Cadillac Motel and my other writing. She wrote a nice article that came out just before Christmas. What a wonderful Christmas present!
Below is a link to the article. There were also two photographs with the article -- a current one of me with some of my Indian mementos and a picture of my parents, a sister, and me back in 1958 in India. The black and white picture was blown up from a tiny one, but you can still see the amazing ancient stone sculptures the background in Mahabalipuram.
Sunshine State (and other) Nominations
Most states have special recommended reading lists for students, and schools and libraries make sure they have those books available for everyone to enjoy. These lists have different names depending on the state. For example, Texas has the Bluebonnet Award, Maryland has the Black-Eyed Susan Award, and Florida has the Sunshine State Young Readers Award.
I was happy to learn that Evangeline Brown and the Cadillac Motel has been nominated for the awards in several states, and especially honored to hear that several school librarians in Florida thought so much of the book that they nominated it for Florida's Sunshine State Award. Only a few books make the list each year and the Florida winner won't be announced until next spring, but keep your fingers crossed! It would be wonderful if Evangeline is selected as a Sunshine State book.
Evangeline is on Accelerated Reader Quiz List
Evangeline Brown and the Cadillac Motel is on the Accelerated Reader Book List that is being used in schools in many states. It has a reading level of 4.8 and a point value of 7. Maybe they have the quiz in your school!
Evangeline Brown awarded the Swiss Prix Chronos!
I am happy to announce that the German language edition of Evangeline Brown and the Cadillac Motel received the Senior Jury's 2006 Prix Chronos Award in Switzerland! (The title in German is Wir zwei gegen den Rest der Welt, which roughly translates as The Two of Us Against the World)

The award was established first in France in 1996. Its purpose is to encourage reading and to promote a better understanding between the generations. Each year five to eight books are selected by the National Gerontology Foundation to be read and discussed by groups of students ages 10-13 and older adults. In 2003 in Romandy (the French-speaking part of Switzerland), over 800 children and 50 libraries took part. The award was expanded two years ago to include German language editions. I am very honored to have my book selected as the winner of the Swiss 2006 Prix Chronos!
Click on this easy-to-understand information about the original French award program.
I've Been Quoted!
Writer's Digest magazine is one of the best trade magazines for writers, and I was quoted in the June 2006 issue! The article, "The Hazards of Self-Googling" by Jenna Glatzer, concerned the amount of time writers spend looking up the titles of their books on the Internet and how they feel about the comments, reviews, etc. that they find. Is it a waste of time? I don't think so, although it can make my mood soar or really bring me down depending on what I find. Luckily, I almost always find such nice comments and reviews! Thank you readers.
Classes Read about Evangeline and Farrell
Evangeline Brown and the Cadillac Motel is being read and studied in several middle school classes. The students of Mrs. Bachman's 6th grade reading class at Monroe Middle School in Tampa are deep into the story and are very curious about what Evangeline will do next. They are also helping their teacher with the creation of a curriculum guide for the book by suggesting vocabulary words to be included. The guide should be ready later this year. Thank you everyone, and Mrs. Bachman, too!
Evangeline Brown
is in Middle School Libraries
Evangeline Brown and the Cadillac Motel has been selected by the Pinellas County Library Media/Technology Administration to be placed in all of the middle school libraries in Pinellas County, Florida. This is a great honor!
I was invited to attend a recent meeting of the middle school media specialists during which my novel was distributed. I told them about Evangeline and how I came to write the book. I was also given the opportunity to autograph the copies they will be placing in their school libraries. It was a very pleasant morning and I appreciated their interest in what I had to say! I hope the students back at their middle schools enjoy Evangeline's story.
Book Talk: Society of School Librarians International
In November 2005 I made a trip to Miami Beach to give a talk at the annual conference of the Society of School Librarians International (SSLI). The conference was at South Beach, the art deco area I'd always seen on post cards, with the beach and palm trees on one side of the road, and the hotels and sidewalk cafes on the other.
It was an informal conference and the media specialists came from all over the country. They were were a very friendly group and I felt right at home as I told them a little about the book and answered their questions. Many of them ended up taking copies of the book back to their schools where I hope their students will also enjoy Evangeline's story.
German Edition is Published!
In the fall of 2005, the German edition of Evangeline Brown and the Cadillac Motel appeared in European book stores as Wir zwei gegen den Rest der Welt. Judging from the Google translation (I don't know German), the title was changed to something like "The Two of Us Against the World." The cover is very different, but that sure is Evangeline and Farrell -- complete with his basketball -- in the picture! Here is a link to more information about this edition.
Do you live in Southern California?
Over the past year, several first-edition, hardback copies of Evangeline Brown and the Cadillac Motel were given away as prizes by San Diego's top-rated radio station: Soft Rock KyXy 96.5 FM (www.kyxy.com). Listeners bid on the books in loyal-listener auctions using their KyXy listener network points. Bidding was fierce and we saw the auctions end in overtime points wars again and again.
Great news! Five more books will be up for auction again in the next several months. And this time, they'll be autographed! So if you're in the San Diego area, listen to KyXy 96.5, join their POiNTS program, and you could end up with your own autographed first edition, FREE! (Note: you do not need to be in San Diego to join or win, but you must pick up the prize in-person at the station, located in central San Diego county.)
Don't live in San Diego? Where would you like to see Evangeline Brown and the Cadillac Motel featured in a radio station giveaway? Send us your suggestions (with city, radio station call letters, and web site URL if you know it) to promotions@evangelinebrown.com. Maybe your local station will have copies for you soon!
Summer Reading Lists
It was great to see Evangeline Brown and the Cadillac Motel on a number of summer reading lists for schools and libraries in places like Bethesda, Maryland and Westwood, Massachusetts. I hope all of my readers had a great summer!
University Visit
In June 2005 I was invited to speak to an adult class at the University of South Florida's St. Petersburg campus. The students in the adolescent literature course were mainly English teachers and librarians. I talked about how I chose the names for many of the characters in the book, and how I came to write about Evangeline Brown and her friend Farrell. It was a pleasure speaking to such an interested group!
Review on YA Books Central
YA Books Central is an excellent website and resource that has reviews of young adult books, interviews with authors, excerpts from the books and other goodies. I was honored to have Evangeline Brown and the Cadillac Motel reviewed on the site. I was also interviewed by Kimberly Pauley and that is posted, too. If you want to find out what a book is about before you read it (there are nearly 3000 reviews -- most of them written by readers), the website is www.yabookscentral.com.
Book Festival
In April 2005 the library in Dunedin, Florida, held its first reading festival called "Dunedin Books -- A Party." It was held in Dunedin's Pioneer Park in the center of the historic district. The festival was held outdoors and the weather couldn't have been better -- sunny, breezy, and comfortable. There were activities for adults and children, and about 40 authors held book signings under big blue tents.

I autograph a book for a young reader and his mom.
Author Luncheon
Many libraries have groups of volunteers who plan programs and raise funds for the library. The Friends of the Tarpon Springs Library (in Florida) invited three local authors to speak in March 2005 at their Author Luncheon Series. I was one of the three, and since we knew each other and have entirely different writing styles and genres (one writes super-short short stories that end with a bang and the other writes historical fiction), we were able to plan our talks together. The luncheon was held in the Tarpon Springs Heritage Museum where enlarged historic photographs of the town covered the walls. Since I was familiar with modern Tarpon Springs -- once the sponge diving capital of the world -- the photographs gave me an interesting perspective of the town in a different generation.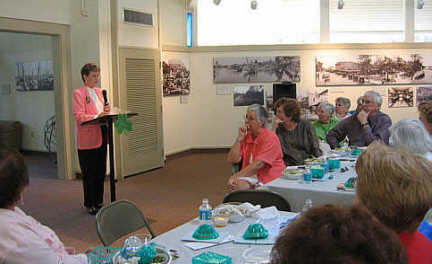 Speaking to the group after lunch.
School Visit
In March 2005, I visited Terrace Community School, a charter school in Tampa, Florida and participated in their Literary Symposium. This school's location is unusual because it is currently meeting in part of Tampa's Museum of Science and Industry! Unfortunately, the students don't get to explore the museum between classes -- their classrooms are in a section with a separate entrance.
I had a great time talking to three different sixth grade classes about writing and publication as well as about Evangeline Brown. The students were excellent listeners and had lots of good questions. I really enjoyed myself and they made me feel special by asking for my autograph during their lunch break!
Conference Speaker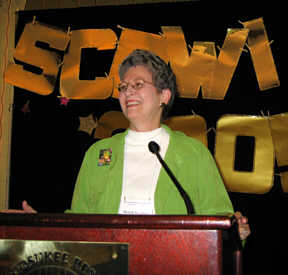 In January 2005, I was invited to be a panel speaker at the SCBWI (Society of Children's Book Writers and Illustrators) Florida Regional Conference in Miami. I had a wonderful time meeting other authors, editors and agents, and exchanging information. People involved in writing and producing books for children and young adults are especially nice!
Many of the authors also signed books at the conference.
(I'm on the right.)
German Language Edition Licensed!
In January 2005, Cecile Dressler Verlag purchased the exclusive German language translation rights to Evangeline Brown and the Cadillac Motel. Watch for "Evangeline" to be available in German!
School Visit
In December 2004, I visited Mrs. Arntz's class at Blanton Elementary School in Pinellas Park, Florida. Mrs. Arntz had read Evangeline Brown to her class during the fall and her students had lots of questions to ask about the book and about writing in general. She has a very smart, very nice class! It was fun meeting all of her students. They certainly made being a writer even more enjoyable.
Book Discussion Group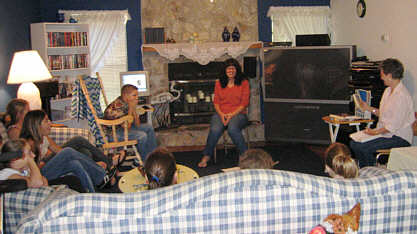 This fall (that's me on the right), I met with a group of piano students and their teacher in Tarpon Springs, Florida. Everyone had already read Evangeline Brown and the Cadillac Motel, so we talked about the book and had a pizza party afterward.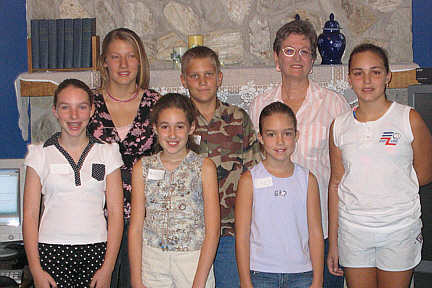 We posed for a group picture.
I also autographed the books everyone brought.
I really enjoy meeting my readers!
Sizzlin' Summer Reads Article
Evangeline Brown and the Cadillac Motel was one of two books featured in the first Sizzlin' Summer Reads for kids column in the St. Petersburg Times in Florida.
Donation Made
In honor of National Missing Children's Day, the author donated the day's proceeds to the National Center for Missing and Exploited Children on May 25, 2004.
Cool New Book:
Evangeline Brown and the Cadillac Motel is featured at the top of the list of "Cool New Books" for May, 2004 on KidsReads.com
Press Release:
The press release sent out by Dutton Children's Books includes some nice insight into why the book was chosen as winner of the Ann Durell Fiction Contest.
Excerpt: Stephanie Lurie, President and Publisher of Dutton Children's Books, remarks, "Evangeline won the heart of every editor in our department. Her voice is wise, funny, and refreshingly honest. There's an authenticity to the writing that we don't see in many first-time novelists."
View the Entire Dutton Press Release
This document can be printed. Use your browser back arrow to return to this page.
Author's husband searches for Cadillac Radio
St. Petersburg Times